Product Usage
Fully Welded ball valves with integral welded valve bodies can effectively avoid external leakage. Welded ball valve is widely used in various fields, its superior quality and high performance stability is ordinary cast steel ball valve can not reach, all-welded ball valve service life is far greater than cast steel ball valve, all-welded ball valve is widely used in city gas, city heating, petrochemical, shipbuilding, steel, pressure regulating stations, power plants and other types of pipeline equipment.
Welded ball valves are generally available in blue, yellow, grey, black and other colours. Transmission methods include handle, worm gear, pneumatic, electric, etc.

Construction Characteristics
Fully welded housing;
Trunnion mounted ball;
Spring-loaded seat rings;
Metallic or soft seals;
Double Block and Bleed"-version;
Full or reduced bore;
Flanged, welded or threaded connections;
Blow-out proof shaft;
Shaft seals replaceable under full pressure in open and closed position;
No static charging;
Maintenance-free bearings;
Applicable Standards
Design & Manufacture Conform with: API 6D/ ISO 14313, ASME B16.34
Connection Dimension Conforms with: ASME B16.25, DIN EN 12627
Fire Resistance Design Conforms with: API 607/ISO 10497
Inspection & Test Conforms with: API 6D, ISO 5208, API 598
Material Conforms with: ISO 15156
Materials of parts
| | | | |
| --- | --- | --- | --- |
| 1 | Body | 12 | Ball lubricating bearing |
| 2 | Left-right body | 13 | Screw |
| 3 | Ball | 14 | Bonnet gasket |
| 4 | Seat | 15 | Support cover |
| 5 | Sealing ring | 16 | Die holder |
| 6 | O-ring | 17 | Packing |
| 7 | Stem | 18 | Terminal pad |
| 8 | Seat grease injection valve | 19 | Spring pin |
| 9 | Spring | 20 | Flat key |
| 10 | straight pin | 21 | Stem gasket |
| 11 | Blow-down vavle | 22 | Static-free spring |
Materials of parts
| | |
| --- | --- |
| Body | 20#/A105/LF2/F304/F316/F304L/F316L/F11/F22/F51 |
| Ball | 20#+Hcr/A105+ENP/LF2+ENP/F304/F316/F304L/F316L/F51 |
| Seat | A105+ENP/LF2+ENP/F304/F316/F304L/F316L/F51 |
| Stem | 2Cr13/A105+ENP/LF2+ENP/F304/F316/F304L/F316L/F51 |
| Sealing ring | PTFE/NYLON/PEEK/TEFLON |
| O-ring | VITON/NBR |
| Screw | B7M/B8M/L7M/B16M |
| Support cover | A105+ENP/LF2+ENP/F304/F316/F304L/F316L/F51 |
| Die holder | A105+ENP/LF2+ENP/F304/F316/F304L/F316L/F51 |
| Spring | 17-4PH/17-7PH/Inconel |
| Bearing | 304+PTFE/316+PTFE |
| Gaske | Flexible graphite+304/PTFE |
*Materials could be choosed according to customers' requirement & working condition.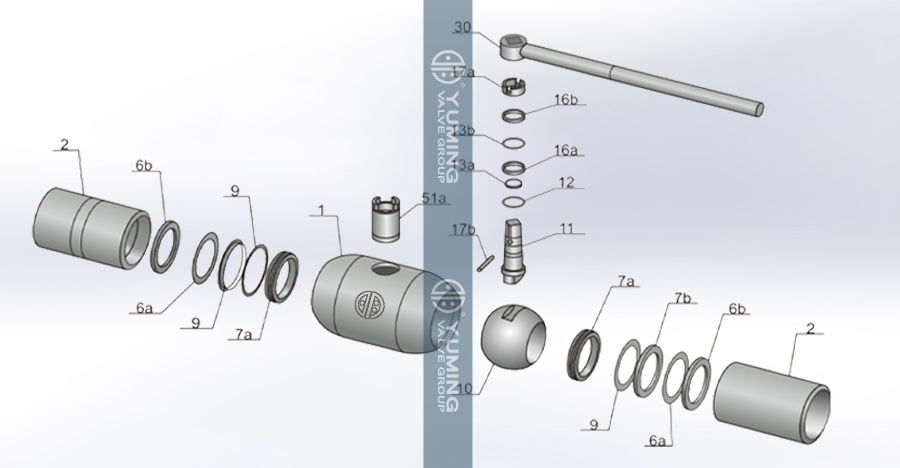 Fully welded ball valve performance
No maintenance, adjustment and lubrication, easy to install, reliable long-term operation at low running costs. The surface adopts spraying treatment technology, lustrous and beautiful, which has been in the leading level in China.
The surface is sprayed with plastic treatment technology, which has a beautiful lustre and is at the leading level in China. There will be no external leakage etc. The valve body is of welded construction, so the valve is light and easy to insulate.
The operating handle can be removed and installed in a different direction.
The valve seat is made up of a carbon fibre reinforced Teflon seal ring and a disc spring, so it is highly adaptable to changes in pressure and temperature and does not produce any leakage in the marked pressure and temperature range.
The processing of the ball is followed by an advanced computerised tester, so the ball is processed with high precision.
As the valve body material is the same as the pipe material, there will be no uneven stress and no deformation due to earthquakes and vehicles passing over the ground, and the pipe is resistant to ageing.
Integral fully welded, equal and variable diameter channels, fixed and floating balls, double piston effect sealing system, automatic injected sealant type bearings.
To prevent static electricity, the stem and ball and between the stem and stuffing box are equipped with steel balls and springs, which can keep all parts of the valve conductive to the valve body and let the current pass through the area, releasing static electricity. Not only to prevent fire, but also to prevent corrosion and to achieve a temporary cut-off for timely maintenance.
The stem anti-disengagement function is because the stem is affected by the pressure inside the valve and always generates a disengagement force so the stem is designed as an anti-disengagement structure.
Support with a low friction material thrust washer pushes the pressure against the stem so that the stem only acts as a torque transmitter.
Fully welded ball valve applications
City gas: gas output pipeline, main line and various branch supply pipelines, etc.
Central heating: large heating equipment output pipelines, main lines and branch lines.
Heat exchangers: pipelines and various circuits opening and closing.
Steel plants: various fluid pipelines, waste gas selective discharge pipelines, gas and heat supply pipelines, fuel supply pipelines.
Various industrial equipment, various heat treatment pipelines, various industrial gas and heat pipelines.